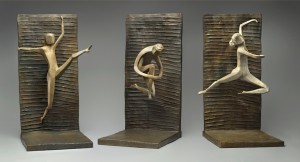 "Rhythm of Dance" is a series of three uninhibited dancers caught up in the music – leaping in the air, unattached and ungrounded by any conscious thought. Their movements are fluid and transcend the solid stage beneath them as they float on air, buoyed by feeling and abandonment.
"Power" is a dancer in full control of his body, imbued with strength, yet commanding boundless energy and great speed, giving impetus to his presence and force.
"Poised" is a dancer self-possessed with assurance and balance, ready to be drawn into the music with any divergent impulse and expression.
"Passion" is an intense dancer deeply stirred by emotion and caught up in the excitement of the music.
Dimensions of each sculpture: L- 14-1/2"; W- 13"; H- 24"
Individual sculptures are priced at $4300.
Rhythm of Dance collection of three is priced at $10,000.